San-O-Tizer
Company profile
Hypochlorous acid (HOCl) is the perfect weapon to fight germs. It hits hard against pathogens, yet this powerful weapon is 100 per cent safe for humans, chemical-free, non-toxic and all-natural. It has been used in the medical field for over a century. Non-Toxic, All Natural and Alcohol-Free.
Before antibiotics were available, HOCl was used to irrigate and disinfect wounds in World War I. It is now used in everyday settings including day-care centres, hospitals and produce sections in grocery stores.
Hypochlorous Hand Sanitiser is gentle on the skin and is a great option for people suffering from eczema and dermatitis, often associated with repeated use of alcohol-based hand sanitisers.
Currently, the US Environmental Protection Agency has recommended numerous disinfectants against COVID-19 including hypochlorous acid (HOCl)
Scientifically formulated electrolysed anolyte water, otherwise known as San-O-Tizer Hypochlorous Solution (HOCl). A powerful disinfectant, naturally produced in mammal neutrophils (white blood cells), which is incredibly effective against bacteria, viruses, spores, biofilms and other microorganisms, and also acts as a great anti-inflammatory agent with cell-repairing properties.
Ingredients: Water (99.94%), Sodium Chloride (0.04%), HOCL (0.02%).
San-O-Tizer is SABS approved.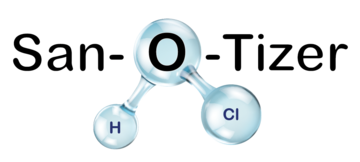 Images (Click to Expand)
Selected Products
Regions